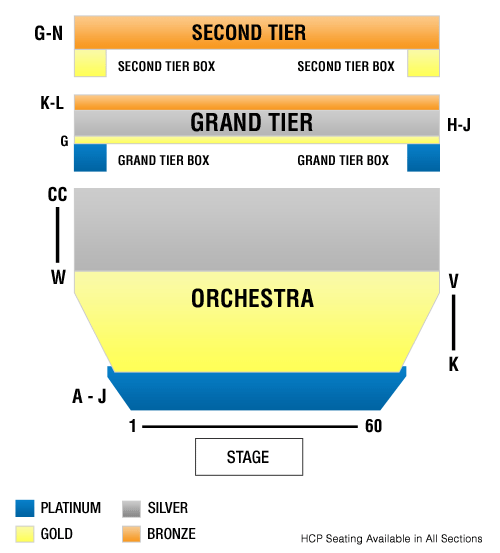 2014-2015 SEASON SUBSCRIPTION PRICING
****Please note that you are selecting your seats for the events held at the Community Center Theater only. Comparable seats for the Yo Yo Ma event at Memorial Auditorium will be assigned. If you have any questions, please call our office at 916-388-1100.
Platinum Seating: $300.00
(Orch. Rows OA-OC, A-J / Grand Tier Boxes)
RESERVED
Gold Seating: $260.00
(Orch. K-V / Grand Tier G / 2nd Tier Boxes)
RESERVED
Silver Seating: $200.00
(Orch. W-CC / Grand Tier H-J)
RESERVED
Bronze Seating: $140.00
(Grand Tier K-L / 2nd Tier G-N)
OPEN / GENERAL ADMISSION
ORDERING SUBSCRIPTIONS:
You may order subscriptions in in the following ways:
Online: To order online, click here.
By Phone: 1-916-388-1100
All subscriptions do not include a $3.00 facility fee on each engagement. For more information please visit Sacramento Convention Center.
All seats are sold on a first come first serve basis.
ACCEPTABLE PAYMENT
You may pay by check, MasterCard or Visa.
All checks are payable to Society of Orators, LLC.
TICKET/SEASON INFORMATION
Subscriptions are sold by Series only.
Tickets to individual events are not available.
Speakers are subject to substitution and/or rescheduling without notice.
All sales are final. / No refunds.
PRIVACY POLICY
This company ("Member") outsources their box office services to Vendini, the provider of the ticketing/donation service. Vendini values the privacy of our members and customers. Vendini does not sell any personal information to other companies.
Vendini provides Members statistics in aggregate so Member can track the effectiveness of their online transactions. Vendini will provide Members with enough information to provide you with services and promotional purposes if applicable.
In keeping to the highest web standards, Vendini has provided additional information on what we track.
Server Logs
Vendini's application servers store your IP address in standard server logs. We use your IP address to diagnose problems, and optimize (and maintain) our servers. Vendini may use this information in aggregate to provide statistics to our Members.
Cookies
We use browser cookies to keep track of your individual session state; how many tickets, donation amount, event details, etc. This also allows us to differentiate you from another patron.
Vendini does not belong to any group that tracks users across web sites.
Security Policy
Our Secure Sockets Layer (SSL) software is the industry standard and among the best software available today for secure commerce transactions. It encrypts all of your personal information, including credit card number, name, and address, so that it cannot be read over the internet.
Vendini reserves the right to share a Member's and patron's contact and personal information with individuals and/or entities for legitimate purposes such as copyright infringement claims brought against a member for the images found in it. We would use this information only as necessary.
Contact and Personal Information
If Vendini does use mailing lists for advertising or promotional purposes, we will always have a clear mechanism for you to remove yourself from future mailings.
Vendini may require information for shipping and billing. Vendini may only use this information for promotional purposes if you explicitly grant us permission. Without explicit permission, Vendini will not use any addresses gathered through our service except for order processing. Addresses are never shared with parties other than our members.